2018 Catfish University- Des Moines March 17, 2018

Catfish University is returning to Des Moines for the first time since 2014. It will be March 17, 2018 at the Adventureland Inn at Altoona, Iowa. We have something very special planned for this event. Captain Brad Durick will be in the house to entertain and educate everyone on the finer points of what makes catfish do what they do and how to catch more catfish. We have also selected some of the best best catfish anglers in Iowa and surrounding to bring many other topics to teach you how to be a better catfish angler.

THE SCHEDULE
9:00 am- What Makes Catfish Tick- Captain Brad Durick
10:30 am- Catching Flatheads- Ted Ellenbecker
Noon- Lunch Break
1:00 pm- Ice Fishing for Catfish- Troy Hansen
2:00 pm- Trolling And Drifting Catfish- David Wyner
3:00 pm - Efficiency and Electronics in Catfishing- Captain Brad Durick
4:00 pm- Kayak Catfishing- Spencer Bauer
5:00 pm- Catfish Roundtable- Q&A with All speakers

After the event, join us for dinner and a social (location TBA) (Cost not included in the University entry fee)


SPEAKERS
Captain Brad Durick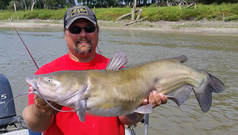 Captain Brad Durick is a nationally known catfish guide, speaker and catfish educator who operates on the Red River of the North at Grand Forks, North Dakota. Durick is the only full time guide on the US side of the Red and has 10 years of experience. He has written two books on catfishing, Cracking the Channel Catfish Code and Advanced Catfishing Made Easy. He has been hosting and speaking at Catfish Universities all over the Midwest since 2011.
Durick is sponsored by: G3 Boats, Humminbird, Minn-Kota, Rippin Lips, Frabill, Plano, Big Frig Coolers, Dexter Outdoors, Bugg Products, Driftmaster Rod Holders.
To learn more about Capt. Brad or to contact him-
www.redrivercatfish.com
---
Ted Ellenbecker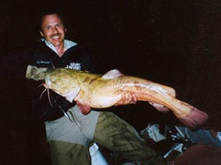 With over 70 IGFA and FWFHF line class records, Ted Ellenbecker joins the 2018 Catfish University. Ellenbecker brings years of fishing, specifically flathead catfishing experience to the table. A guest speaker at the first "Katfish College", speaker for the Outdoor Writers Guild, Host of fishing tips show on Fox Tv. Appearances on Tony Dean radio, In-Fisherman Magazine, North American Fisherman TV, video, and publications. The fishing software "Fish Hunter" and a member South Dakota catfish work group "CWG"

Ellenbecker also developed the "Theory Of Three" The AMAZON video "Any Fish Any Water" and author of "Ultimate Catfishing"

---
David Wyner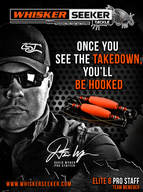 Personal Life
I've been in the fire service for more than 10 years primarily as a fire fighter and paramedic. I currently work for a local fire department as an inspector and public education specialist.
Fishing information
I've been fishing for more than 30 years. I am the owner and operator of Chasin' Cats LLC Guide Service based out of Des Moines Iowa. I am also the founder of 10-6 Fishing which is a nationwide program that gets law enforcement, military, and first responders out fishing. I specialize in trolling and drifting for Channel Catfish. I fish year-round for Channel Cats. I target them in the open water as well has from the ice.. I tournament fish when I can and provide cat fishing instruction through presentations.
Contact David-
https://chasincats.com/
Currently pro-staffing for the following
Whisker Seeker Tackle
EGO fishing nets
Vets 4 vets
Johnston Bait and Tackle
Fish Bite Rod Holders
---
Spencer Bauer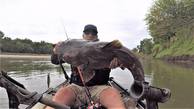 I grew up fishing in Iowa, but after leaving for college, I began fishing all across the South and Midwest. I cut my teeth on kayak fishing beyond the breakers of the Gulf of Mexico, chasing mackerel, redfish, and sharks. As much as I loved the ocean, muddy, midwest water runs through my veins, and I missed chasing catfish on small streams.
I took my kayak and went back home, where I adapted the strategies and techniques I learned from fishing in the ocean, and applied them to becoming a better kayak fisherman here. I will fish on the bank, in waders, or on a boat. Whatever puts the fish on the hook. However, when all things are equal, I will always pull the kayak out of the garage.
I am constantly seeking knowledge and trying to become a better angler. Above all that, I enjoy sharing what I've learned with other anglers. For more information you can check out my website (
www.rivercertified.com
) and Youtube channel (River Certified).
---
Troy Hansen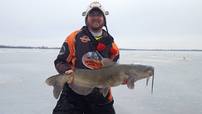 Troy is a return speaker having been part of the 2014 Iowa Catfish University. He is a well decorated tournament angler with a passion for catching catfish through the ice. This will be new ground for many people but can add months to your catfishing season.
"I've been fishing since before I can remember. I spent the summers growing up on Coralville Reservoir in Eastern Iowa. I still enjoy fishing for anything that swims but now specialize in catching trophy channel cats. Half the fun of catfishing is going to a stream or pond and catching creek chubs and bluegills to mooneye and skipjack for bait!"

As a kid I lived for watching the B.A.S.S. Masters and Bill Dance Outdoors on TV while other kids were watching cartoons! I always said I was going to be a tournament angler someday. Growing up in Iowa there wasn't much opportunity to bass fish though. In the early 2000's I entered my first catfishing tournament. My buddy and I fished out of his 14 ft v-bottom with a 15 horse Johnson. We won that tournament and I have been doing it ever since. My gear and tactics have come a long way since then. Now my tournament partner Ken Miller and my girlfriend Amy Smith travel all over the U.S. chasing the whisker fish! This year alone I have been to Grand Forks North Dakota to Decatur Alabama and over to West Virginia.

As I get older I am starting to realize " It isn't the fish you catch, it's the memories you make " that makes fishing with friends great!

Sponsors :Whisker Seeker Tackle, Bug Soother, Pro Marine out of Mediapolis IA



---